ITEMS WE HAVE FOR SALE
We are fortunate to get items to be rehomed that we can sell to raise money for our charitable purposes.  This is the list of items we currently have.  An estimated fair-market-value is listed for each.  If you multiple people are interested in an item and an auction caused the price to exceed out FMV, you will get a donation letter for the extra as that is considered a donation.  If you want to offer a price below our FMV estimate we will consider it and let you know.  Please contact us if one of these items interests you.
Radio Controlled Sloops
Pair of RC sloop rigged sailboats on display stands for when they are "on the hard."  Boats have 2 control channel servos (rudder and trim for main/jib).  The electronics are provided.  We can't attest to the condition of the transmitters or receivers as they have not been tested and might be outdated as these boats are approximately 15 years old.  The boats are 36″ LOA, 48″ mast height, and weigh approximately 12 lbs.  These are big kid toys, most suitable for pond racing.  Sails are pristine and of a fabric similar to rip stop tape.  Our FMV estimate is $175.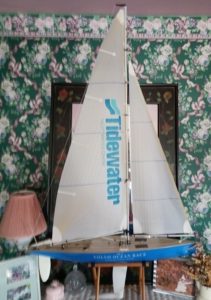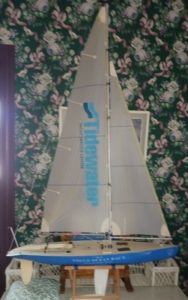 Soling
The Soling is an open cockpit keelboat holding World Sailing "International Class" status.  This one design was used as the Olympics' "Open Three Person Keelboat" 1972-2002.    It is a 27′ LOA with a 4.25′ draft and 2277 displacement.  This is a lot of boat that can be day sailed or raced.  It's short on relaxation amenities and long in the way of traditional sailing performance.  Its most recent history has been in HdGYC Thursday night PHRF racing as a spin boat or in non-spin depending on the crew.  The boat has "an old style mast" making it non-competitive against newer models.  So, its podium days are over, but its family racing days are here, as are its days as a first boat for a new skipper wanted to get started in big boat day sailing.  The action picture is a class advertisement and not the boat for sale.  The boat pictured on the galvanized one box trailer is the Abbott #471 being offered.   Estimated FMV is $1550 with the high end galvanized trailer.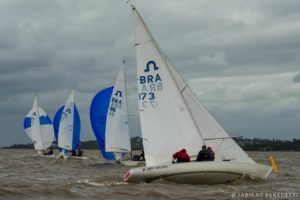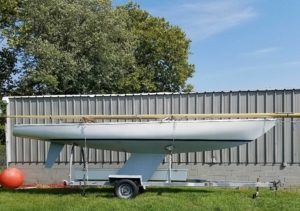 SOLD

–

SuperCat 17
17' Boston Whaler SuperCat 17 is a fun to sail beach cat design.  The main is completely serviceable.  The optional jib is not included,  The trampoline needs a seam resewn where it connects to the starboard pontoon .  The boat is rigged with standard double trapezes for younger adventurists.  No vests are included.   Hull appears in good shape.  The trailer is serviceable for yard use and is undocumented.   The HIN tag is no longer with the boat, but this design was first manufactured in 1985, so the the vintage is post that.  Estimated FMV is $900.
SOLD

– Super Cat 15

15' Boston Whaler SuperCat is a fun to sail beach cat design.  The main and jib are both serviceable as is the trampoline.  Hull appears in good shape.  One transom shows a small crack around a gudgeon that should be repaired.   Previous rework to one of the pontoons is obvious but done in a quality way.  The HIN tag is no longer with the boat, but this design was first manufactured in 1985, so the the vintage is post that.  The boat comes with an undocumented trailer with a storage box.  The tires, hubs,  and suspension are road worthy.  Lights are in place but untested.  The colored sail picture is another ad, offered to show the sail plan,  and is not the boat for sale.  Estimated FMV is $650.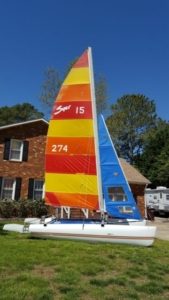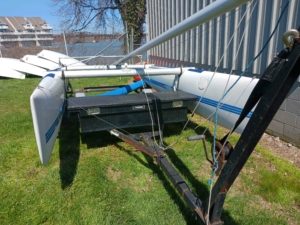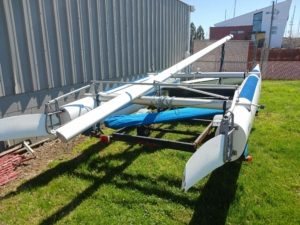 SOLD

– American 14.6

This 2002 year American 14.6 is definitely one of the best small sailboats available to single hand or day sail with friends.  She is designed for the beginning sailor or for those who are seeking a large, stable sloop that offers hassle-free sailing.  The large cockpit offers room for four adults with generous freeboard, comfortable seats and backrest, and includes locations for drink coolers at the end of the seats.  The main and roller furling jib contain 112 square feet of Dacron sail which makes it  perform well in light breezes or a stiff wind.  There is no spinnaker.   The rig included a 700 lb rated galvanized trailer.  Our estimated FMV is $1950.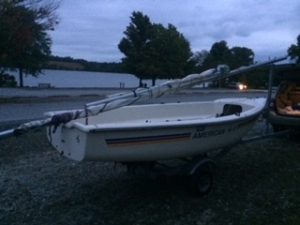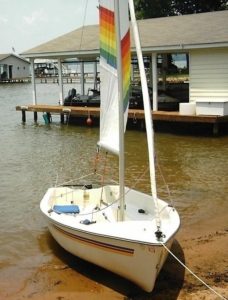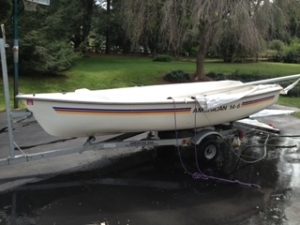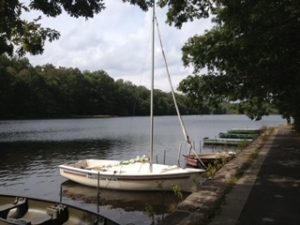 Contact the HdG Youth Sailing Program here:
If you have questions that cannot be addressed using this contact form, please email  [email protected] for camp related questions or email  [email protected]  about this website.