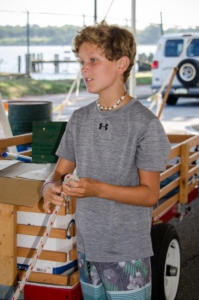 Our Program runs five days, Monday through Friday.
Parents may drop off campers between 8:30 am and 9:00 am daily. NOTE: Campers should not arrive before 8:30 am, as there will be no one at Hutchins Park to supervise them. Instructors and staff who may happen to be at Hutchins Park before 8:30 am have specific duties with respect to set-up and cannot safeguard your children.
Parents should pick up their children between 3:00 pm and 3:30 pm. On rainy days, there are still activities for campers, including instruction under the tent as well as local tours. In the event of severe weather, children may be picked up earlier.