Camp sails from the Frank J Hutchins Park at 100 Congress Avenue on the HdG waterfront. We serve campers from age 7 to age 18 in session groups of size 25 – 35 campers each with approximately 6-8 campers assigned to a certified instructor and intern during each day. We craft the individual camper's camp experience to match their development level.  About two thirds of the campers each week are returnees from previous sessions and years, with the remainder first-timers. Campers commonly sail one five-day (week-long) session but many campers return for additional weeks, based on family schedules and personal needs.  Excepting the Performance Camp sessions, there is no particular content difference from session to session, so selecting a session date on a content basis is not important.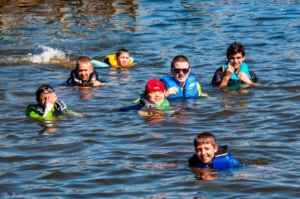 Campers do not require special preparation beyond having basic swimming skills, but this skill is important. Dinghy sailing is inherently a wet activity as beginners (as well as the most experienced) do get dumped out of their boat when they lose balance.
All sailors need to accept this as a normal part of sailing and neither lose self-confidence nor get upset.  It can be fun but is not a fast way to sail.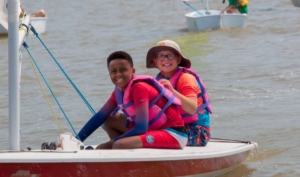 There is little "special gear" needed to sail. However, campers must have with them the starred items *:
* a PFD (life jacket, aka "personal flotation device")
* a refillable water bottle
   a dry towels and a back up change of clothing
* high SPF sunscreen (waterproof SPF 50 is a great idea)
* a small lunch and snack in a backpack cooler each day
   a ball cap or other head covering for sun protection is recommended
   a long sleeved pull over for sum protection is recommended
* closed-toe footwear that can be wet 100% of the time (e.g., aqua socks, old tennis shoes, crocs, but not flip-flops)